Description
ARE YOU STILL STRUGGLING TO OPEN THOSE STUBBORN LIDS?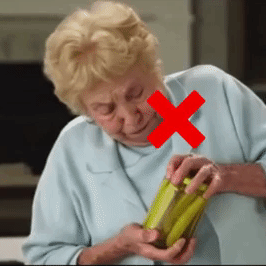 Well, you've got a better option. Easily Open any Jar with A Simple Twist!
This Incredible Jar Opener is designed precisely for those who always need help when opening jars. Even a strong hand can sometimes have trouble opening a jar lid, not to mention those with weak or arthritic hands.
Easily Open any Cap with A Simple Twist!
This jar opener allows you to easily open most small water bottles and wide mouth mason jars. It uses a ratchet-type mechanism to grip a jar or bottle lid. It grips the jar lid tightly as you turn the handle counterclockwise and loosens the cap as you turn the handle clockwise.
Features
Effortless Arthritis Cap Opener – Easy to Use – Takes a simple twist to open.
Adjustable Design – Allows you to effortless open jars, bottles, and other containers between 1 inch (2.4cm) and 4 inches (10.2cm) in diameter.
Saving your Labor & Time – Flexible spiral gear design is easy to open jars, no matter if the lids made of metal or plastic.
Safe Lock – The steel teeth on the clamp grab the edge of the stubborn lid tightly & hold it in place when you are twisting
Ergonomically Designed Handle – For Weak Hands & Seniors with Arthritis
Can be used to open Beer Bottles, Sodas, Soft Drinks & Any Jar
High-quality – Stainless Steel – Durable & rust-resistant
Choose between Wood Handle or White Plastic Handle or Both
PACKAGE INCLUDES:
Choose Color/Material: White or Wooden
1x Effortless Arthritis Friendly – Adjustable Cap Opener
OUR GUARANTEE
Not satisfied with your order? No worries! Let us know within 30 days, and we will give you a stress-free refund.
50% Off + Free Shipping Today! Offer valid until midnight! Because of the actual situation, expect 2-4 weeks for it to arrive (to be safe).
CLICK GREEN 'ADD TO CART' BUTTON TO GET YOURS